Oneskee Athletes & Ambassadors from around the World.
NICOLAS HUBER
Nicolas is a professional snowboarder from Switzerland, he joined the Oneskee team in 2021 and is a great addition to our roster of pro athletes and ambassadors from around the world.
Nicolas is an all action snowboarder and never leaves anything out on the hill, giving 100% whether competing or out riding for fun with his friends.
Nicolas competed in both the 2018 and 2022 Winter Olympic Games in Big Air and Slopestyle disciplines. He also has a number of Europe Cup victories to his name, with a total of sixteen Top 10 finishes in his career. As well as an impressive eight Top 10 finishes at the World Cup.
Like everyone who represents Oneskee, Nicolas' personality was as much of a factor as his amazing ability on a snowboard when deciding to work with him.

Makayla Gerken Schofield
Makayla is a British freestyle skier who competes in moguls. Makayla represented Great Britain and claimed a stunning 8th place finish in the 2022 Winter Olympics in Beijing.
We've worked with Makayla for a number of years now, and have worked closely with the entire Gerken Schofield family. Her sister Leonie also competed at the 2022 Winter Games, and her brother Tom (Leonie's twin) narrowly missed out on qualification as well.
Makayla is pansexual and is spreading awareness within snow sports and showing support for the LGBTQ+ community as a whole. Pansexuality is sexual, romantic, or emotional attraction towards people regardless of their sex or gender identity.
VICTOR WHITE
When somebody mentions Barbados, skiing is not the first thing that comes to mind. But Victor White dared to make history for the paradise island, when he took the country's first winter sports medal at the 2019 Europa Cup in Poland. With a Barbadian father and Finnish mother, and Victor himself being born in Sweden, this talented athlete grew up between the cold climates of the nordics and the idyllic tropics of the Caribbean.
Enjoying more than 10 years in the competitive free ski scene, Victor has now chosen to undertake a new path, as he is now studying at the prestigious Stockholm School of Economics alongside some of Sweden's brightest minds. However, that doesn't mean Victor has stored away his ski's for good - he is more excited than ever about what the future holds, especially in regards to a secret ski project that he is currently working on... stay tuned!
"Skiing is a lifestyle. And this lifestyle is something I believe Oneskee captures within their brand. As Oneskee partners with unique individuals with authentic stories, it's clear to me that this is a brand that dares to be different - a quality that I can strongly attribute parts of my success to. Life's too short to stand in line which is why I always dare to be different and will continue to do so with Oneskee."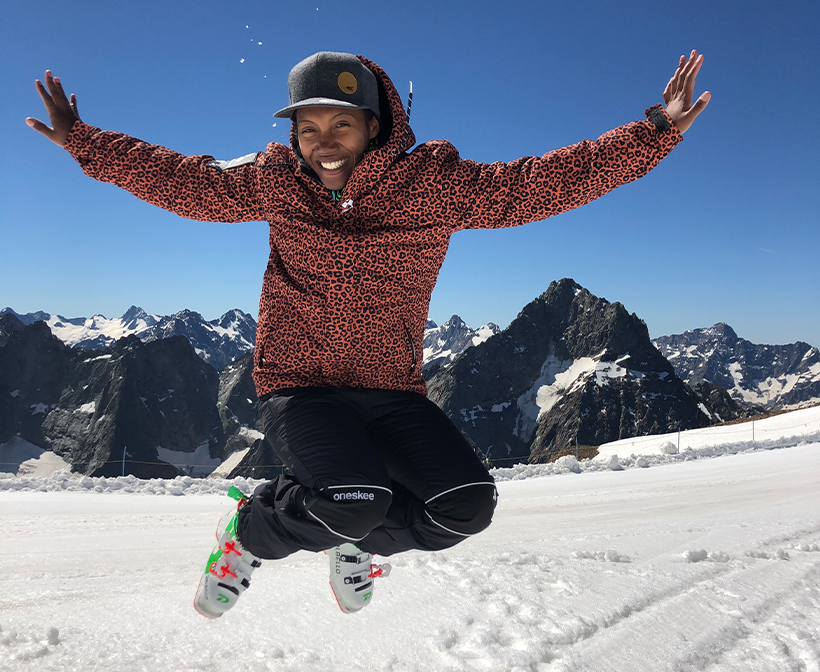 MIA CLERC
In 2018 at the Pyeong Chang Winter Olympic Games in South Korea, Mia Clerc became the first female athlete to represent Madagascar at the Winter Olympics...she was also chosen to be the flag bearer at the opening ceremony.
A year later Mia went on to become the first African woman to ever qualify for a second run at the World Championships in Åre, Sweden.
Mia's story is a unique and fascinating one, that should act as an inspiration for anyone following their passion.
Born in Madagascar, Mia grew up in France with her adopted family and a sister, also an adoptee by the same family but from a different Malagasy family. Mia's biological mother still lives there with her three older brothers, whilst her two sisters were also adopted. Mia tries to visit her biological family in Madagascar wherever possible, but following her passion of skiing at the highest level makes it tricky to do as much as she would like.